HP-2 Acoustic Baffle Lit
The HP-2 Acoustic Baffle Lit is a high-performing, sound-absorbing pendant luminaire with a 2″ aperture available in direct or regressed direct options with a variety of downlight aesthetic choices. Pair with its companion product – HP-2 Acoustic Baffle Unlit – a sound-absorbing and eco-friendly unlit pendant baffle to achieve desired reverberation levels with a consistent aesthetic.
Finelite is now providing 10-day shipments for standard products including Pewter (PEW) and Slate (SLA) finishes of this product! (Consult factory for other finishes.)
A Sound Idea
Today's design integrate surface elements like unfinished ceilings, exposed concrete floors, and large windows while also eliminating sound-absorbing materials. This results in acoustical challenges that have a direct impact on occupant well-being and productivity.
According to "Noise and Wellbeing at Work 2019" a survey conducted by The Remark Group and supported by Dr. Nigel Oseland, workers face major distractions throughout the day due to noise. Consider these stats:
65% of workers report that noise in the workplace impacted their abilit y to complete work in a an accurate and timely manner.
44% of workers reported that noise had a negative impact on their overall wellbeing.
52% of workers report they are interrupted by noise distractions more than 5 times in a working day.

Luminaire Features
Unparalleled performance and uniform illumination from a clean linear form factor. Finelite lines of light are designed for ease of installation and feature integral drivers, simple plug-together wiring, and screw-free access.
10-year warranty
L90: 90% of initial light output at 100,000 hrs
1-100% dimming standard
Replaceable LED light arrays
Acoustic Features
Finelite offers an elegant and affordable approach to improve the sound quality of open space environments. Their acoustic products can be specified as a combination of high-performing, sound-absorbing LED pendant luminaires, in addition to, noise-reducing unlit baffles.
10-year warranty
100% polyester fiber housing
Class A fire rating (ASTM E-84) material
Pre-assembled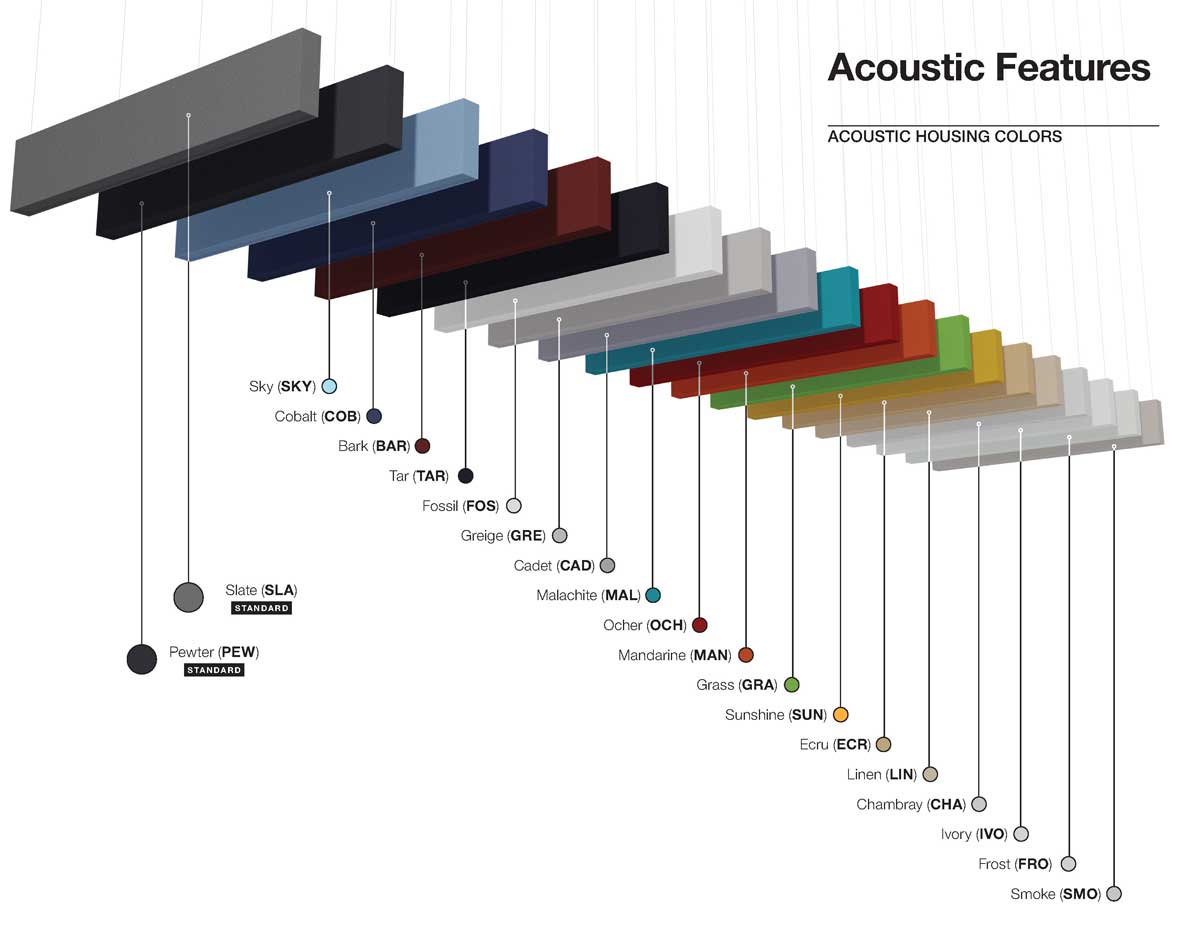 Resources
Visit Finelite for more information about HP-2 Acoustic Baffle Lit